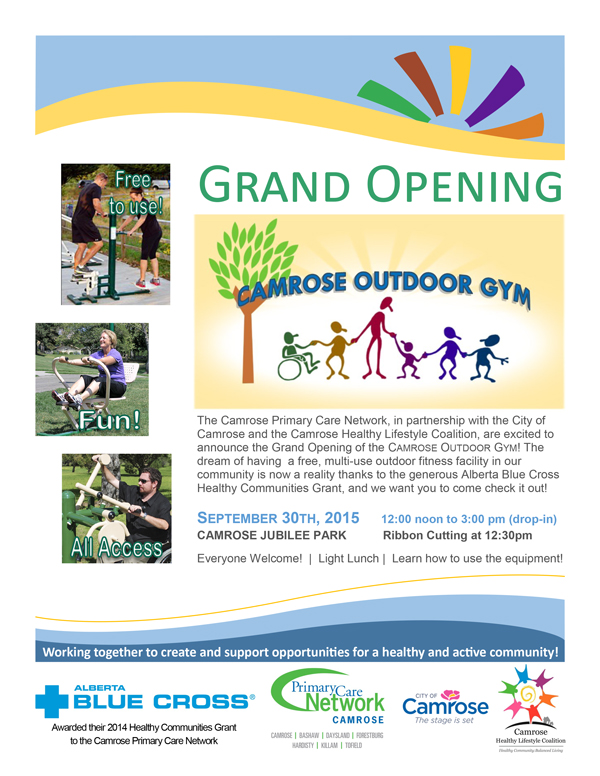 SEPTEMBER 30TH, 2015 12:00 noon to 3:00 pm (drop-in)
CAMROSE JUBILEE PARK Ribbon Cutting at 12:30pm
Everyone Welcome! | Light Lunch | Learn how to use the equipment!
September 30th Grand Opening for Camrose Outdoor Community Gym
The Camrose Primary Care Network (PCN), in partnership with the City of Camrose and the Camrose Healthy Lifestyle Coalition, are excited to announce the grand opening of the new Camrose Outdoor Gym for September 30th, noon to 3:00pm.
The construction which has been ongoing at Jubilee Park will soon be complete, allowing the site to be prepared for installation of the equipment.
"We have been busy planning for this for months," says Colleen Lindholm, Communications Lead for the Camrose PCN. "Chris Clarkson from the City of Camrose and Lucy Ernst from the Camrose Healthy Lifestyle Coalition have been working diligently with the Camrose PCN on every detail from what type of equipment to order to the planning of the Grand Opening event. Everything is coming together nicely and we can't wait to see the location transformed into a place our community members can access for free as part of their healthy lifestyles."
The Camrose Outdoor Gym became a reality because of funding the Camrose PCN received from the Alberta Blue Cross Healthy Communities' Grant in 2014. The Camrose PCN then partnered with the City of Camrose and the Camrose Healthy Lifestyle to bring the dream of having an outdoor gym in the community to a reality.
"The Camrose PCN is very pleased to partner with the City of Camrose and the Camrose Healthy Lifestyle Coalition", says Stacey Strilchuk, Camrose PCN Executive Director. "They not only have an interest in the promotion and awareness of leading an active lifestyle to prevent and manage chronic disease, but also value working together in a way that is meaningful and relevant to our community members in their journey towards health and well-being."
Outdoor gyms are gaining momentum, offering an alternative for people wanting to become more active and stay healthy. They consist of exercise equipment to suit all needs and, instead of weights, uses one's own body weight for resistance. The fitness equipment allows for a wide variety of flexibility, mobility, range-of-motion, cardio, and strengthening moves to provide a well-rounded workout . The Camrose Outdoor Gym, which will be free for users, is going to be suitable for all ages and fitness levels as well as accessible to all members of the community.

The Grand Opening of the gym will be held at Jubilee Park on Wednesday, September 30th from noon to 3:00pm, where community members are invited to stop by and check out the equipment. Trainers from Augustana Fitness Centre and the Exercise Specialist from the Camrose PCN will be on site to show people how to use the equipment safely, and explain the benefits of the workouts people can do on them. The official ribbon cutting will take place at 12:30.
"The Camrose PCN physician and health care provider team is grateful to Alberta Blue Cross Healthy Communities Grant, the City of Camrose and the Camrose Healthy Lifestyle for their support of this project," says Strilchuk. "Having a free, accessible and easy to use outdoor community gym for our residents is important as we continue to work with our partners to encourage active and healthy lifestyles."