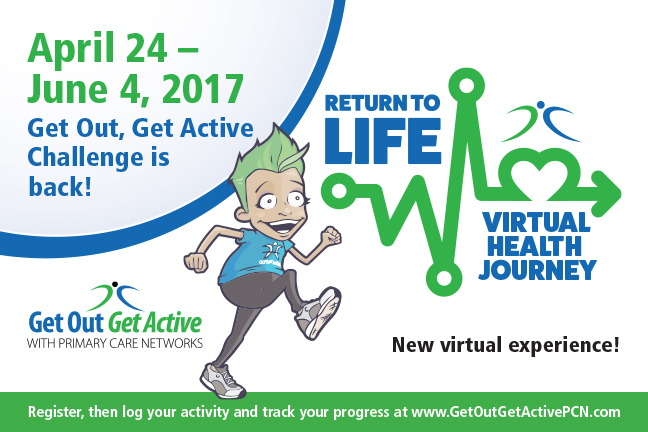 April 3, 2017
Albertans are being asked to step up their physical activity this spring by joining the 4th annual Get Out, Get Active (GOGA) Challenge from April 24 to June 4.
The challenge addresses a physical activity crisis in Alberta and across Canada. Less than 5% of children and 15% of adults are meeting the recommendations in Canada's Physical Activity Guidelines.
GOGA is a free, six week online program for all ages which keeps track of participants physical activities (walking, running, swimming, basketball, cycling, gardening etc.), converts them into steps, which then "virtually" takes them on a health journey.
GOGA started as an Edmonton area challenge and last year had 11 Primary Care Networks (PCNs) participate. This year the interest has grown provincially to include 21 PCNs.
Participants are encouraged to track and log their activity each day. They can monitor their progress online to see how far they have gone on their virtual health journey, as well as to see how their overall team is doing. Over the six weeks, a GOGA character transforms from sick to healthy as more physical activity is done. During the challenge, a pedometer or other step tracking device can be used to track physical activity. The online program can also translate time in various activities into the equivalent in steps.
Participants are welcome to challenge coworkers, friends, and family to join the Get Out, Get Active challenge to increase motivation.
All participating PCNs will be organizing activities including partnerships with community recreation facilities to motivate participants. The Camrose PCN is pleased to once again collaborate with the City of Camrose, University of Alberta Augustana Fitness Centre and the Camrose Public Library.
Below is a listing of local activities for participants to consider:
Monday, April 24th 12:15pm – 12:45pm. Augustana Fitness Center will lead an outdoor mini-exercise class (20 minutes) on the soccer field at the east edge of the Camrose Recreation Centre parking lot, using fun music and speakers. In the event of inclement weather, we will be able to use the indoor track for a combination of walking/exercises, led by the Fitness Center.
Wednesday, May 3rd 12:15pm – 12:45pm. Connie Harrison, Camrose PCN Exercise Specialist, will lead an outdoor walk, leaving from the Camrose Recreation Center parking lot.
Wednesday, May 10th 12:15pm-12:45pm. Pickleball is being offered at the Max McLean arena courts—club members will show you how to play and provide equipment to try a game.
Wednesday, May 17th 12:15pm-12:45pm. Lane swim is reserved for GOGA participants at the Aquatic Center.
Wednesday, May 24th 12:15pm-12:45pm. Connie Harrison, Camrose PCN Exercise Specialist will lead an exercise session at the Outdoor Gym in Jubilee Park.
Wednesday, May 31st 12:15pm-12:45pm. Augustana Fitness Center staff will give an orientation to their equipment and lead a short exercise session.
A huge thank you to Augustana Fitness Centre for once again partnering on this initiative. In addition to partnering on events, Augustana Fitness has agreed to give each GOGA participant a 6 punch pass to the Fitness Center to be used during the duration of the GOGA challenge.
The Camrose Public Library is also scheduling a weekly 30 minute walk during GOGA. Interested participants can meet at the Public Library every Tuesday at 12:15pm. A different route will be planned for each week starting April 25th. Thank you Camrose Public Library for collaborating on this initiative!
Registration opened March 13 and there is still time to register to participate. Visit http://GetOutGetActivePCN.com for more information.
For more information regarding GOGA, please contact:
Melanie Fuller
Project Manager – Edmonton Zone Primary Care Networks
E: melanief@pcnlivewell.com
C: 780-717-5240
For more information regarding the Camrose PCN, please contact:
Connie Harrison
Exercise Specialist – Camrose Primary Care Network
T: 780.608.4927